the saga continues...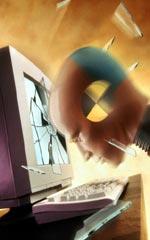 Yes, I am perfectly aware that this picture suggests that I am the dummy. And I think I am. No...computer problems not fixed yet. My husband will now be taking the awful thing to a friend who can "fix" anything wrong with computers. I hope he announces it DOA and I can get a new one. FAT CHANCE. Oh well.
Nope, not frustrated one bit. ARGH!
Special thanks to everyone who is helping to pick up my slack, even Beulah Mae. I guess something is better than nothing, right? Right?! :)
Posted by Jody at July 22, 2005 10:25 AM | TrackBack