Damn Commie Hurricane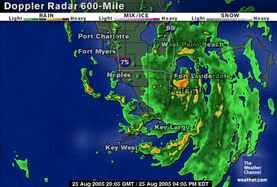 Yup, Hurricane Katrina is looking to put her commie stamp on Florida, starting with south Florida. From what my sources say, she is after those rabid right wingers, Jody and Janette, Florida Cracker, and other notorious right wing zealots.

Right now, via the Weather Channel: Katrina freshly upgraded to a hurricane is currently centered about 25 miles east-northeast of Fort Lauderdale, Florida with maximum sustained winds at 75 mph. It is moving slowly to the west at about 6 mph.
After that, Comrade Katrina may well take a shot at other Right Wing Nuts, such as basil and Back Country Conservative. A swing a bit to the west might let her come see Miss Beth.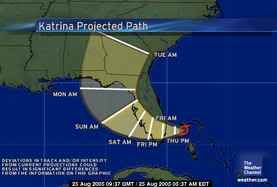 See! It's a vast Left Wing Conspiracy!!!!
Friday Update: looks like Katrina might be affecting Beth more then expected by Monday. Sorry, Beth.

PS: If your name is Katrina and you are reading this, it's a joke. Comrade ;)
Posted by William Teach at August 25, 2005 05:08 PM | TrackBack