"Because We Can"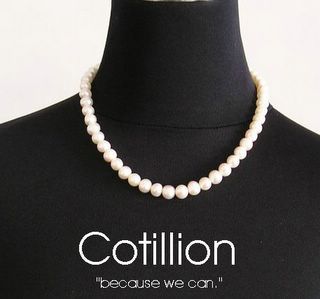 Cotillion was cancelled today. We were going to blame it on the rain...
But some people don't know when to quit, which is
so cool
in it's own right. So make sure to visit
The American Princess
today who decided to post it "all by herself" and did an absolutely phenomenal job.
And I think my very own guest blogger, William Teach has become the first MALE writer highlighted in a Cotillion blogger...see history in the making there, don't you just feel so proud?
(Great job, E.M...you rock!)
Posted by Jody at August 30, 2005 08:32 AM | TrackBack