September 06, 2005
Ophelia?
Chances are we Floridians might have a little storm this weekend. Tropical Depression 16 is well on it's way to being named (it's a girl!) Ophelia and she's heading straight toward Florida...
Of course, I blame Bush.
Posted by Jody at 11:39 PM | Comments (6) | TrackBack
August 30, 2005
The best kind of Dame...
Ogre told me to find out what kind of dame that I am.
Well... like I said, I am the best kind of dame...

Katharine Hepburn
You scored 28% grit, 28% wit, 38% flair, and 19% class!
You are the fabulously quirky and independent woman of character. You go your own way, follow your own drummer, take your own lead. You stand head and shoulders next to your partner, but you are perfectly willing and able to stand alone. Others might be more classically beautiful or conventionally woman-like, but you possess a more fundamental common sense and off-kilter charm, making interesting men fall at your feet. You can pick them up or leave them there as you see fit. You share the screen with the likes of Spencer Tracy and Cary Grant, thinking men who like strong women.
Find out what kind of classic leading man you'd make by taking the Classic Leading Man Test.


Posted by Jody at 10:28 AM | Comments (3) | TrackBack
August 28, 2005
Katrina: Historical Comparison
Take another shot at this, make sure I hit the "post" button before closing IE down.
The 5pm statement on Katrina shows max sustained winds of 165, hurricane force winds out to 105 miles, and tropical storm winds to 230 (which is an increase.) The minimum central pressure is 902Mb/26.64 inches. The rainfall estimates are not that bad, in comparison to smaller hurricanes, but, unlike say, Fran, which hit NC in 1996, Louisiana is a low lying state, with tons of lakes and a high water table to start with. During Fran, 8-10 inches dropped outside my apartment: it never flooded, there were places for the water to go. No in southern La., though.
The lowest pressure ever was Hurricane Gilbert in 1988 with a minimum central pressure of 888Mb and winds of 185mph. Only Camille and the Labor Day Hurricane of 1935 had higher winds. Now, the winds with Katrina are less then any of those three. But, with a very low central pressure for Katrina, the storm surge will be horrendous.
Here is a list of those who hit the US (right click for full size, using some of my Typepad bandwith). The low central pressure may cause a storm surge up to 30 feet, especially with wind pushing water from east to west into New Orleans and Lake Pontchartrain (which is elevated above N.O.) Not good.
My prayers are for all those who were not able to get out of N.O and the surrounding areas, such as tourists stuck when the flights were canceled, and those who just do not have the money. For those who decided to "ride it out," God watches out for little children and fools. Not complete idiots.
Cross posted at Pirate's Cove.
Posted by William Teach at 06:14 PM | Comments (0) | TrackBack
August 26, 2005
Friday Night Funnies
Ran across a website called Video Tiger, some good stuff
First, liberals at work
This is actually very cute. Seriously.
One for the ladies.
And finally, here is an Al Queda reject.
Posted by William Teach at 07:20 PM | Comments (2) | TrackBack
August 23, 2005
First Lib Lead Balloon Found!
Must Cite Steal the Bandwagon!!!
The first ever liberal lead balloon has been identified in the southwestern part of the United States. It has taken much hard work to uncover this.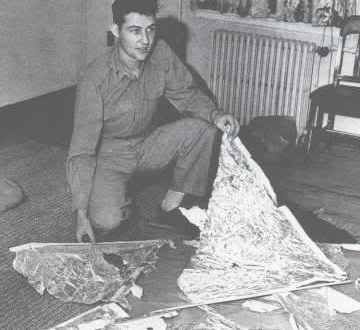 If we zoom in on this picture from Roswell, New Mexico, from the summer of 1947, we see the evidence:
Posted by William Teach at 09:59 AM | Comments (0) | TrackBack
August 13, 2005
The Shamu Chronicles
I survived! Two almost three year olds, one three year old and one seven year old versus three adults. I knew it was going to be crazy when we were entering the park with the three baby girls in matching hoochie mama bathing suits (don't tell the baby's daddy about that!) holding each other's hands and chanting "Shamu, Shamu, Shamu"; a seven year old boy, one stroller (more about that later); a bag full of waters, cokes and Kool-Aids, another bag with pita bread sandwiches and peanut butter and jelly sandwiches for the kids; two bags of clothing, pull-ups, wipes, panties, sippy cups, and snacks; and a 2 gallon thermos of ice tea.
My friend, looked at me laughing, and asked " Are we nuts?".
Yes.
First stop after all our bags were searched and we entered the park was the stroller rental place, where we rented a double stroller. One thing about rental strollers, they never have enough storage space. So we did some creative loading of all our stuff into these two strollers. Needless to say the one stroller we bought from home carried most of the load. In retrospect, not the best idea...
And off we went to see the dolphins swimming. Then we did baby swap and the four of us who could, rode Journey to Atlantis. And then the Blue Horizons show which was nice and the kids really liked, except the girls' attention span gave up about half way through the show (hey, Sea World, does the show have to be soooo long?).
Then we went to eat lunch. Afterwards, my friend loading up the strollers asked the innocent question: "Do you smell something?"
The baby, the dear sweet baby, had an accident. Of the poop variety. So we found a family restroom (thank God for this invention) and we all loaded into the small room with the seven year old boy insistent that he stay outside to "watch the strollers". We all had jobs to clean the baby up. My friend's sister pulled her suit down. My friend took the bottoms and held the corner and stuck it in the toilet and flushed. And flushed. And flushed. After three flushes the water had done a great job cleaning it off. She then rinsed the bottoms off with soap in the sink. Since they were pratically clean and if we changed the baby into something else, all the girls wouldn't match...well... let's just say, no poop was going to keep the girls from matching!
Oh and my job in the poop incident? "Hello, my name is Jody and I will be cleaning your butt today."
Onward to the kid's park, because honestly we sensed a mutiny coming and although the kids don't know it, if they had banded together, they would of won. Of course we were lost and ended up back toward the entrance of the park near the stroller rental shop again, which was a good thing because about a block away from passing it, the loaded down stroller we had brought from home lost a wheel. The wheel just fell off. So we rented another double stroller (because one seat was for a little girl, the other for all our stuff!).
Finally making it to the kid's park with the girl's next in line for the Jumping Bouncy thing, they closed the event and everything else because of a thunderstorm in the area. So we went to the picnic tables under shelter by a huge sand area and the kids played in the sand area for an hour while we waited for the rain to stop. Finally the thunder did stop but not the rain, so we let the kids play in the rain. And then we decided to leave, since it was already four o' clock and I-4 would be terrible to be stuck on in rush hour traffic.
The best thing? The baby says, "I had so much fun, mommy!" Who knew? I wonder if a sandbox and a waterhose would entertain them as well?
The funniest thing? We never saw Shamu. Oh well. Next time, we have annual passes. That means I get to go again and again and again...yay for me (groan!).
Posted by Jody at 10:20 AM | Comments (4) | TrackBack
August 11, 2005
Shamu Rocks!
I decided to take a day off from work tomorrow. And go to Sea World...with the baby (the baby being a very wild and tempermental almost 3 year old), her "best" friend (also almost 3) and my niece...who is 3. (And of course my daughter's new imaginary friend Buddy who is 3 years old and has black hair and is always in time out will surely make an appearance as well).
Wait.
Did I say I was taking a day off?! I think this might be even more work. But my daughter's friend's mom and aunt are coming too...and her seven year old brother. So no worries.
Right?!
Right?
If I live to blog about it, you guys will know. Have a happy Friday everyone!!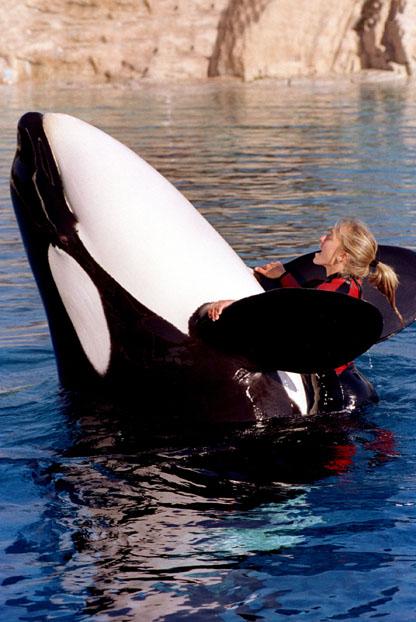 Posted by Jody at 11:05 PM | Comments (4) | TrackBack
August 08, 2005
Were You Speaking to Me, Honey?
Opening myself up to horrendous comments from Jody's women readers:
Men who are accused of never listening by women now have an excuse -- women's voices are more difficult for men to listen to than other men's, a report said.

Men deciphered female voices using the auditory part of the brain that processes music, while male voices engaged a simpler mechanism, it said.
I wonder if this is the reason for "honeydo" notes?
Hat tip to The Pirate, guest posting at Little Miss Attila
Update: This is probably a good place for this:

A Macedonian man left his wife at an Italian service station and only realized he had driven off without her six hours later, news agency Ansa said.
Not, not, not good.
Posted by William Teach at 10:09 AM | Comments (5) | TrackBack
August 01, 2005
Around the Diamond
First up, Orioles slugger Rafael Palmeiro was suspended for 10 games after testing for a steroids substance. This comes on the heels of testifying adamently before Congress that he had NEVER used steroids:
Rafael Palmeiro jabbed his finger in the air for emphasis and raised his voice with all the indignation of a man falsely accused.

"I have never used steroids. Period," he told a congressional panel in March.
Only a few minor trades occured on Sunday, the last day to make them.
And, in the Capital, the Washington Senators are worried that their star Left fielder, Ted "Burb" Kennedy, has been taking Clueless, in a clear violation of the substance abuse policy.
"The abuse of power and the cloak of secrecy from the White House continues. ... It's a devious maneuver that evades the constitutional requirement of Senate consent and only further darkens the cloud over Mr. Bolton's credibility at the U.N."
For the moment, "Ted will be assigned to a farm team, and re-educated on the basic fundementals, such as the US Constitution" said a team spokesman. "Ted's completely forgotten that his brother John played the same way, appointing Thurgood Marshall to the Federal 2nd Circuit Court of Appeals in 1961. We need an aggressive player who has his head in the game at all times, and Ted has been bobbling the ball and committing too many errors as of late."
Kennedy immediately pulled his pants down around his ankles and went for a swim.
Posted by William Teach at 07:34 PM | Comments (0) | TrackBack
July 28, 2005
Missing Girl in Marin County, CA
From ChristmasGhost, via Jay at Stop the ACLU; this girl is the niece of ChristmasGhost.
This is a photo of Cheryl Ann Magner.

She has been missing since the beginning of June. She was last seen in Marin County, Ca.

Please, anyone who has seen this 17 year-old girl please call 415-472-2994. This is her mother's phone number...please do not call unless you have information that would be helpful.

Or call the San Rafael police dept. @ 415-485-3000 or www.srpd.org.

Any information or help would be greatly appreciated by the family.

! Please help spread the word !

[Cross-posted at MVRWC , Cotillion, and .]

Posted by Beth at 12:39 AM | Comments (2) | TrackBack
July 24, 2005
Do you want the good post or the bad post?
Washington, DC - Hordes of Undead-Americans from District of Columbia-area cemeteries descended upon the nation's capital today to lobby Congress for equal protection under Federal laws which prohibit employers from engaging in discrimination during the hiring process.

"Under Federal law, it is illegal to discriminate, in regard to employment, against anyone because of their national origin, race, sex, sexual preference, religious preference, age or disability - but not because they have died and then returned from the grave. What kind of country protects those who are out of the closet, but does not protect those who are out of the casket?" complained Larry Wolnitz, an accountant who perished in a car crash in October 1978.
Now, if thouest dare, read more, but do not say I did not warn you:
Barbara Enser wasn't very comfortable at first with the idea of using maggots to clean the wound on her right foot. But if it meant saving it from amputation, she was willing to give it a try.

The 57-year-old Bay City woman was diagnosed with diabetes 40 years ago and subsequently lost her left leg to the disease. She also suffers from neuropathy, meaning she has no feeling in her foot or leg, and ulcers or wounds can develop from constantly putting pressure on the foot.

For the procedure, the maggots — about 2 millimeters each in size — are placed on the wound, then surrounded by an adhesive foam, clear tape, and a gauze bandage.

By July 8, the maggots had swelled to twice their normal size and eaten away part of the infection. When Dowling removed the bandages two days later, Enser's foot was looking better. Healthy, pink skin was replacing the dead tissue, and the swelling was down in her foot and ankle.
You're welcome :D)
Posted by William Teach at 07:35 PM | Comments (11) | TrackBack
July 21, 2005
Heh-heh-heh-heh
He said poop. Heh-heh. Heh-heh. Heh-heh.
[Pass it on.]
Posted by Beth at 08:39 PM | Comments (1) | TrackBack
July 20, 2005
WANTED
Posted by Beth at 10:24 PM | Comments (5) | TrackBack